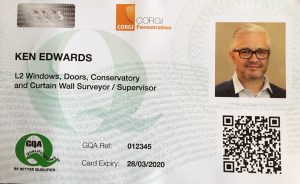 CORGI FENESTRATION SKILLS CARD
The CORGI Fenestration branded Skills Cards  are the new 'gold standard' in qualification cards in the glazing and security sector.
If you have a Vocational Qualification, or already carry a GQA Card, then it is likely that you will automatically meet CORGI Fenestration requirements. Plus, you can easily complete a competency upgrade if your relevant Vocational Qualification is about to expire.
If you have completed the compulsory Health and Safety test you may also be able to add CSCS to your card.
Issued by GQA, the fenestration awarding body and only organisation issuing CSCS cards for the Glass and Glazing industries, the card carries a QR (Quick Response) code. When scanned by a smart phone this reveals the holders' details (qualifications, name, address) held on the Skills Register.
We may be able to recognise MTC cards that have been issued based on a vocational qualification or alternatively we can advise you on how to convert your MTC to a vocational qualification. Support funding may be available and your local centre will be able to advise.
For Skilled Locksmiths we recognise both the new qualifications and some short courses. Unfortunately at the moment it is not possible to add CSCS to the locksmith card.
Just email us enquiries@corgifenestration.co.uk for further information – Include your name, address, daytime telephone number and details of your qualifications and/or courses.
We'll get back to you as soon as we can.
HOW IS THIS CARD BETTER THAN OTHER CARDS?
CORGI is the most recognised name in the home improvement and construction sectors. 71%* of consumers associate the name with trust, reliability, expertise and quality. Just think how valuable it would be to have the CORGI name linked to your qualifications?
The CORGI Fenestration Card, unlike some other cards on the market, is a personal card – not a company card. If you carry a company card you need to get a new one each time you change employer, or if you work on a sub-contracting basis you may need a card for each employer. Not with CORGI Fenestration – it's your card with your name on it.
The CORGI Fenestration Skills Card can also be Construction Skills Certification Scheme (CSCS) accepted when health and safety testing criteria are met. CSCS is the leading skills certification scheme within the UK construction industry and is recognised nationwide. GQA are the only body approved to issue CSCS cards for Glass and Glazing industries.
The CORGI Fenestration branded Skills Card is backed by the CORGI Fenestration Skills Register and issued by GQA.
ASSURANCE & SECURITY
The CORGI Fenestration Card is also an identity card – with all the assurance and security that implies for consumers who let the holder into their home.
Carrying the CORGI Fenestration Card shows you are one of the best in the business because only the best qualifications are recognised. They are based on National Occupational Standards, regulated by Ofqual and delivered by GQA licenced assessors – the most experienced in the industry.
For Skilled Locksmiths we recognise qualifications and courses that are also based on National Occupational Standards, regulated by Ofqual and delivered by Highfield Certification and/or GQA licenced assessors.
WHO'S IT FOR?
The CORGI Fenestration Card is for installers, surveyors, manufacturing workers, and repair and maintenance operatives across windows, roof windows, roof lights, doors, roof lanterns, conservatories, orangeries, glass extensions, sunrooms, tiled roof glass extensions, replacement conservatory roofs, porches, shop fronts, curtain walls, facias, bargeboards, cladding, soffits, guttering and downpipes, locksmiths and security.
WHO RECOGNISES IT?
Everyone – from Competent Persons Schemes to construction site managers, and especially homeowners.
*Source: independently conducted consumer survey for CORGI Services, 2019