CORGI FENESTRATION ACADEMY
We are pleased to announce the launch of the CORGI Fenestration Academy. Working with Build Training and Building Our Skills to offer a comprehensive range of training solutions from accredited short courses to full qualifications and including wider construction skills.

BUILD TRAINING
With Build Training we are able to offer the full range of Fenestration Vocational Qualifications as well as a selection of short courses for the wider construction sector. There are even competency update qualifications, removing the need to repeat the full qualification.
With assessors throughout the UK, Build Training provide appropriate support and assessment at your place of work or via an online learning platform, giving you the flexibility to choose which method is right for you and enabling you to learn at your own pace.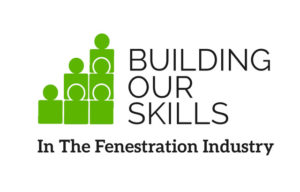 BUILDING OUR SKILLS
With Building Our Skills we are able to offer an additional range of accredited short courses and business apprenticeships, including practical fenestration training.
The accredited short courses have been assessed by an awarding body, GQA, to ensure consistency in provision and competence of those providing the training.
Accredited courses can contribute to a full qualification as the course has been mapped against to allow learning credits to be given. This means you will not have to repeat aspects of training that has already been covered and that your hard work can be recognised.
All the apprenticeships are fully funded and are provided via a partnership with the Learning and Skills Partnership which can deliver a variety of subjects including Trade Counter and Customer Service skills and business administration.
CORGI FENESTRATION SKILLS CARD
The CORGI Fenestration branded Skills Cards are both qualification and identity cards and are issued by GQA Qualifications, the only organisation issuing CSCS cards for the Glass and Glazing industries. Whilst predominantly for the fenestration sector, GQA can also issue CSCS cards for all GQA construction qualifications.
The skills card includes a QR (Quick Response) code. When scanned by a smart phone this reveals the holders' detail as held on the Skills Register.
Candidates undertaking a qualification through the CORGI Fenestration Academy can add CSCS to their skills card by completing the compulsory Health and Safety test.
To see what's on offer visit CORGI Fenestration Academy